The final leg of our trip concluded in Amsterdam.
Our plan was leave Bruges first thing in the morning so that we could have all afternoon in Amsterdam. We made it to the train station and purchased our tickets to Amsterdam with plenty of time to spare. We had to make a quick stop in another town in order to catch the train that would take us to Amsterdam. We made it to first town without a problem, but unfortunately the Belgian railways weren't running very smoothly that day. After waiting around for an hour for our "delayed" train, we learned that there was a very good chance that it might never arrive. Thanks to my problem-solving husband, we changed our route and were finally on our way after a few more hours of waiting around a freezing train station.
This slight detour did end up costing us an entire afternoon in Amsterdam, one that we really needed in order to see everything that we wanted to. It was after 6pm when we arrived, and significantly colder (mostly due to wind chill) than Belgium had been. After checking into our hotel and grabbing a quick bite to eat, we were more than ready for bed.
Where We Stayed
We stayed at Multatuli Hotel, and I would NOT recommend it to anyone. I will start off by saying that the one positive aspect of this hotel was that it was right across from the train station. The hotel was old, and even though we requested a non-smoking room the place reeked of smoke (what was worse was that the hotel tried to cover up the smell with mint. Smoke mixed with mint might even smell worse than just smoke by itself). Everything was dingy, and looked like it needed to be updated or replaced. Thankfully we never spend much time in our hotel when traveling.
Amsterdam has a great tram system that runs similar to the underground metros of other major cities. We bought a day pass so that we could hop on and off as much as we pleased. Our first stop in the morning was the Van Gogh museum.
Van Gogh museum
We followed our map to where the Van Gogh museum was supposed to be located. Much to our surprise, we learned that the museum had temporarily moved due to construction that was being done on the building. At least there were museum staff outside of the building to notify tourists like us of the move. They had also ran a red string/wire across the top of the whole city, leading you to the temporary location of the museum (which was inside of the Hermitage museum). It was about a 20-30 min walk, but we eventually made it. Since the Van Gogh exhibit was located inside of another museum, you were forced to buy a double ticket to both museums.
Despite all of the difficulties at the beginning, we really did enjoy the museum. It showcased Van Gogh's life, and started with when he first learned to paint. It lead you through all of his different phases and eras, and provided you with a lot of information regarding Van Gogh's life in addition to information about his paintings. It was really interesting, and definitely a must-see site if you are in Amsterdam. We were also pleasantly surprised by the Impressionist exhibit at the Hermitage museum, and were happy that we got to see that as well. We definitely wouldn't have made it there if it weren't for the Van Gogh museum being there temporarily.
Anne Frank's House
This is without a doubt the number one thing to see if you are in Amsterdam.
We purchased our tickets ahead of time online, so we were able to walk right in when we arrived. The tour is self-guided, and you are given a map of the house with explanations of which rooms were which. It was absolutely amazing. I read The Diary of Anne Frank years ago when I was in middle school, and I surprised myself with how much I remembered. Being in the actual place where everything took place was unreal, and so very sad at the same time. Reading entries from her diary and standing in the exact room she was referring to was a really incredible experience. It's hard to not get emotional while you are walking through the house. There are a number of places where you can stop and watch a video that further explains what happend during the time the family was hiding out here, told you a bit about Anne Frank herself, and interviews with people who knew her. At the end you can watch an interview with her father (the only member of the Frank family to survive) discussing what it was like to read Anne's diary, and talk about why he decided to create the museum.
Unfortunately photography was not permitted, so we weren't able to take any pictures.
The Red Light District
After seeing what I felt where the two most important sites in Amsterdam, we wandered off to the Red Light District. When in Rome, right? We were curious to see what all the fuss was about. After wandering past numerous sex shops (all of them with signs reading "Play like Fifty!" Seriously, this Fifty Shades of Grey thing is starting to get old) we eventually came upon what everyone is always talking about. Small rooms with large glass windows line the ally ways, and this is where the working girls rent out space for the day. The girls were much prettier than I thought they would be, and smiled nicely in their lingerie as we walked by. There is a red light above each door that lets you know who is currently "open."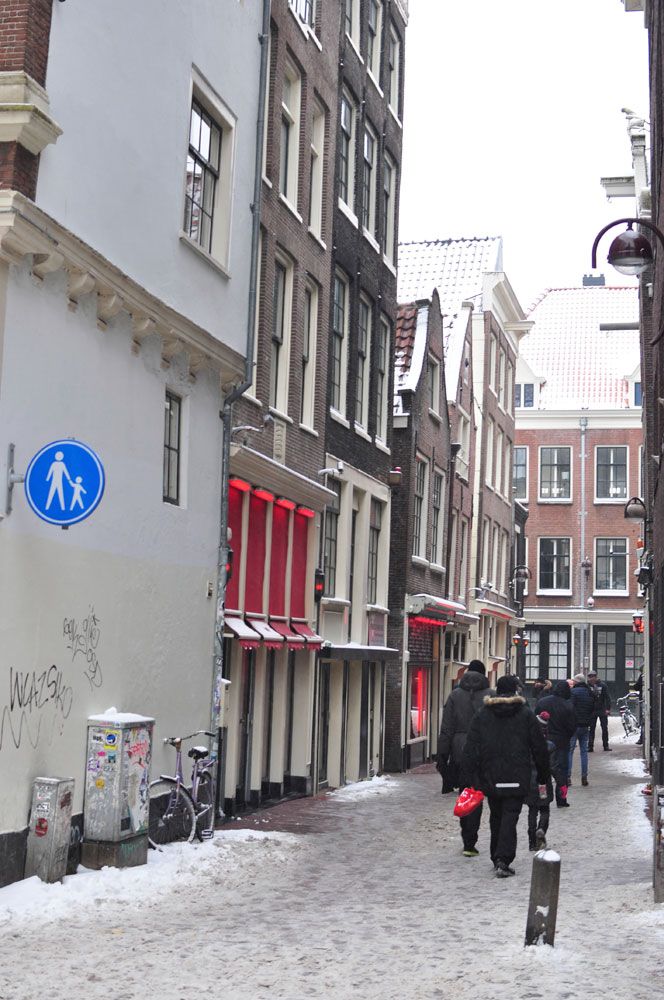 The area didn't bother me that much, it was mostly other curious tourists like us walking around. Then we started to see gross, creepy old men walking out of the rooms. That's when we decided we were done with the Red Light District, and quickly headed to a more family friendly side of town.
There were still a number of places I wanted to see in Amsterdam, but after loosing an entire afternoon due to travel delays, there just wasn't enough time. The next morning we walked across the street to the train station, and headed straight to the airport.
We both thought the city was really interesting, and would have liked to spend just one more day there. Unless you are ready and motivated to brave the cold, I would NOT recommend going in the winter. It was absolutely freezing, especially with the wind chill. Although we had a handful of difficulties, we still had a really good time here. It's definitely a unique city, and I'm glad we took the time to visit.