A couple of weeks ago we took a spur of the moment trip up to Innsbruck Austria.
While we were there we decided to take a day trip up to the Neuschwanstein Castle in Germany.
It's only an hour and a half away from Innsbruck, and the magical castle that inspired Walt Disney ranked pretty high on our must-see list.


We set out first thing in the morning, and arrived before 10am. Seeing as it was a snowy day in February, there were just a handful of tourists at the castle.
Honestly, I can't even imagine what it must be like to go during the busy seasons. Not my cup of tea.


To visit the castle you first must arrive in Hohenschwangau.
This is a cute town below the castle where you can park your car and purchase tickets for the tour. It's VERY important to buy your tickets before heading uphill to the castle, because they are not sold once you get up there! We waited in line for like 5 minutes (seriously, we need to do more site-seeing in the winter) and had about two hours to kill before the first English-speaking tour began at noon.
Typically there are three ways up to the caste: A horse-pulled carriage ride, a bus ride, and old-fashioned walking. The bus wasn't running due to the amount of snow, so we decided to try something different and hopped in a carriage.

We were absolutely frozen by the end of our carriage ride, but that's ok because Neuschwanstein castle is AMAZING.
Definitely the most breath-taking castle I have ever seen.
We still had some time to kill, so we took a few pics and walked around.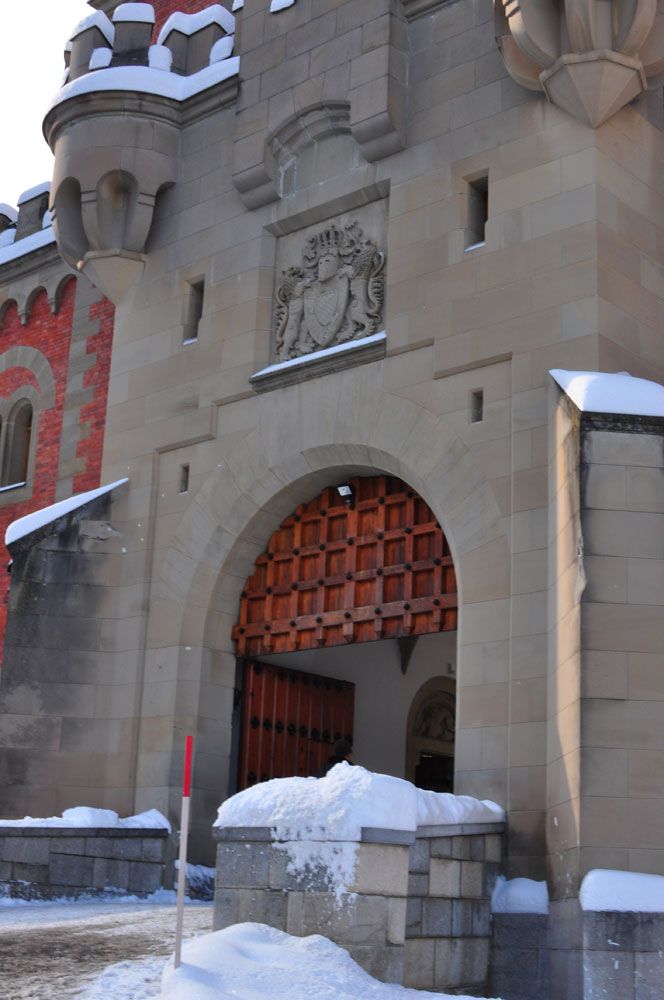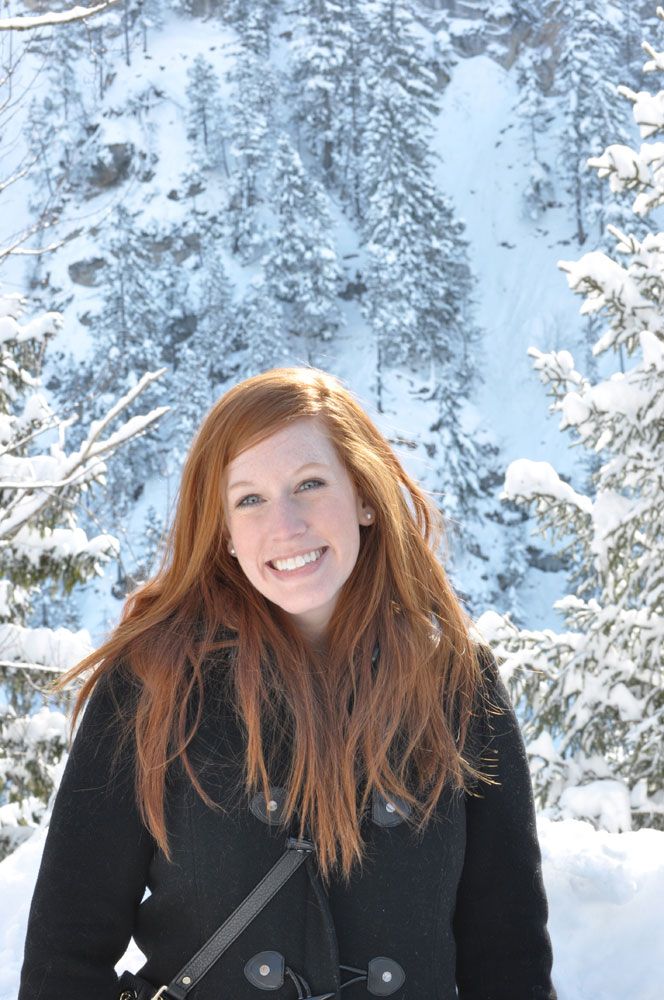 The castle is in amazing condition, probably because it wasn't constructed until the late 1800s. That's pretty "new" by European standards.
Of course a place as cool of this doesn't allow photography inside, that would just be too convenient.
Neuschwanstein was commissioned by Ludwig II of Bavaria who barely got to live there before mysteriously passing away in 1886. It is said that the King was becoming mentally ill, but they were never able to determine what caused his death.
About six months after his death the castle was opened to the public.
All of the rooms you see on the tour are furnished in their original condition. The coolest by far was the cave room, which was constructed to look like a real cave.
The tour wasn't very long, but I'd say it's the coolest castle we've seen (so far that is).
Afterwards we were determined to snap a great photo of the castle, after all what's the point of going somewhere neat if you can't get a great photo of it?
There is a pathway that wraps around the side of the castle and leads to Marienbrucke (or Mary's Bridge) a
bridge where you can get fantastic photos.
Unfortunately, due to the snow they close this pathway in the winter.

You have GOT to be kidding me, was my reaction.


A fence with a sign reading "Do Not Enter" in about five different languages was standing between us and a fantastic picture.
Who knows if we would ever get a chance to make it back here!


So we hopped the fence like a couple of rebels, and trudged through what seemed like miles in the snow (ok it wasn't miles, but it was a lot of snow).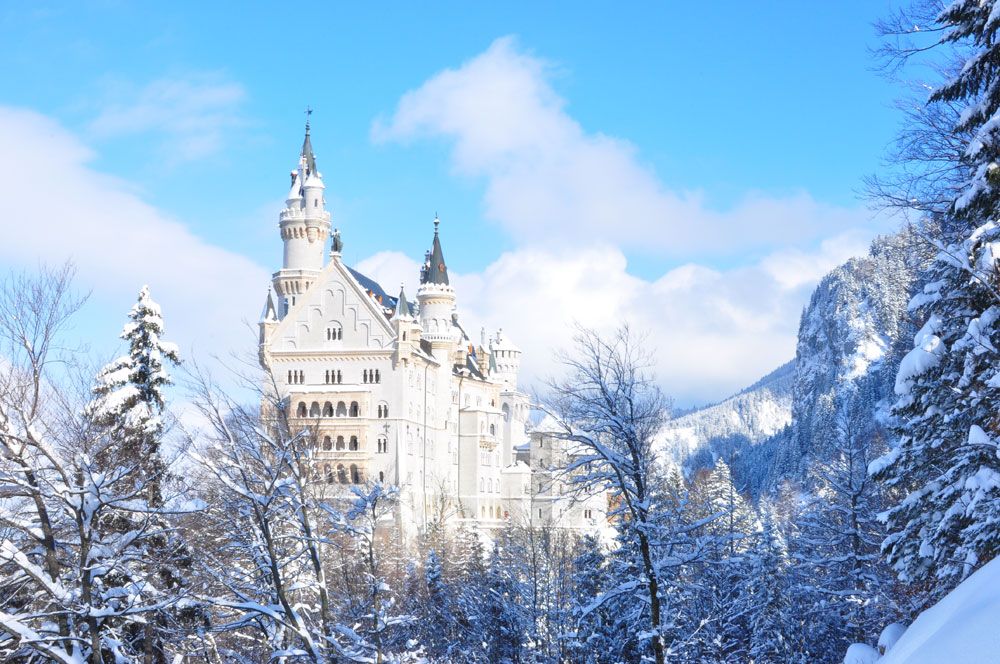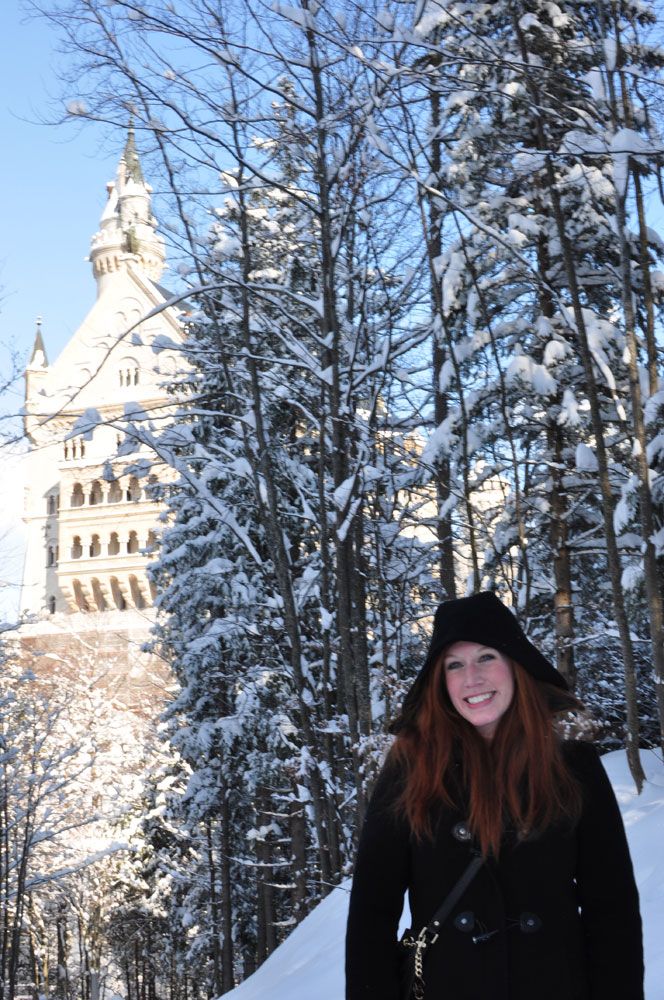 We finally made it to the famous bridge to snap that perfect, breath-taking picture.
Was it worth it?
TOTALLY

I would definitely recommend visiting Neuschwanstein in the winter. If you are prepared for the cold it can be a great experience with very few tourists, and the snow is an amazing backdrop for this Bavarian castle.

But you've gotta be ready to hop a few fences, because the view from the bridge just cannot be missed!