A couple of weeks ago we took our first trip after returning to Italy. Although it was freezing cold, we ventured out on a 5 day vacation to Brussels, Bruges, and Amsterdam.
First stop on our trip: Brussels.
Although the main reason for our visit to Brussels was because it was the easiest city for us to fly into from Italy, I am definitely glad we decided to stay for a night.
There isn't a ton to do in Brussels, but it's worth checking out if you are able to. The food was delicious, the beer outstanding, and French is the main language spoken (which I just think is fantastic).
We arrived at the Brussels airport at about 6:30pm on Thursday, and had no problem hopping on a train to the city center. The train is located in the basement of the airport, which makes finding your way to the heart of Brussels extremely convenient.
Upon arriving at Central Station it took us a while to get our bearings due to the serious lack of street signs. After a few stressful moments and confusion, we finally whipped out the Iphone and were able to locate our hotel which was a short hop, skip, and a jump away (or like a 7 minute walk).
Where We Stayed
We stayed at the
NH Grand Place Arenberg
, which is in a great location (close to everything, yet off the main road). Our hotel room was much larger than expected, and everything was super clean and updated.
There aren't a lot of "sites" per-say, but I would say my top two must-see things in Brussels would be Grand Place (the main square) and Manneken-Pis (a statue of a little boy peeing).
Grand Place
This main square in Brussels is composed of multiple buildings, including the town hall and museums, most of which you can enter for a price. We didn't go into any of them, but I enjoyed the architecture (most likely because it reminded me of Paris).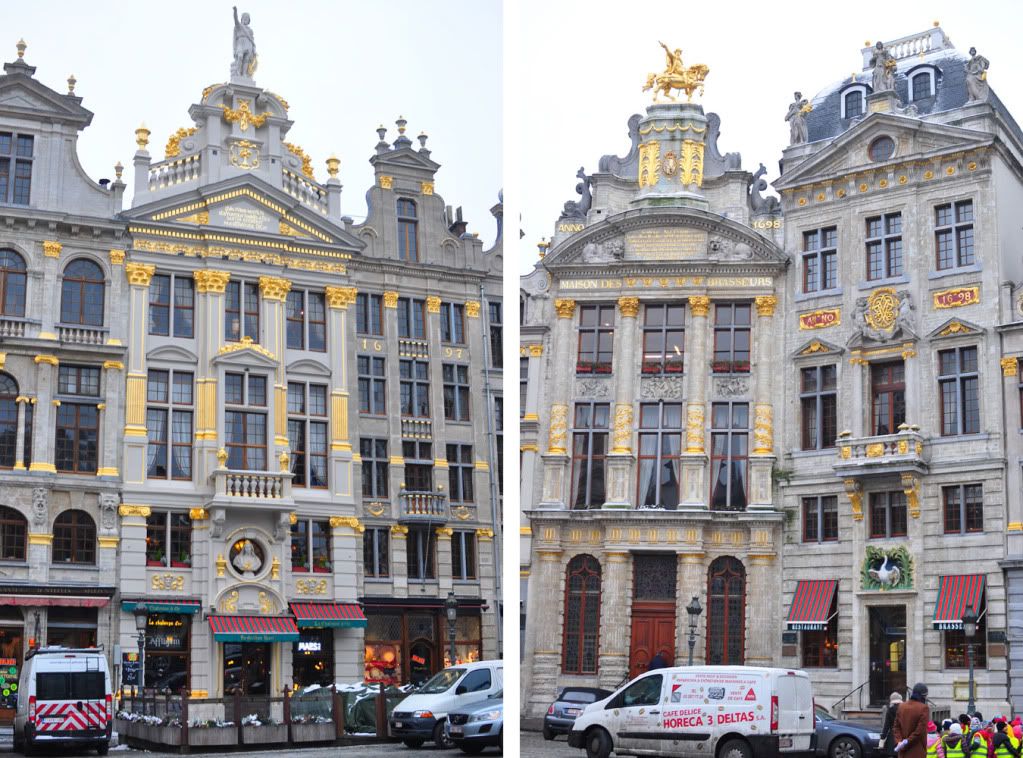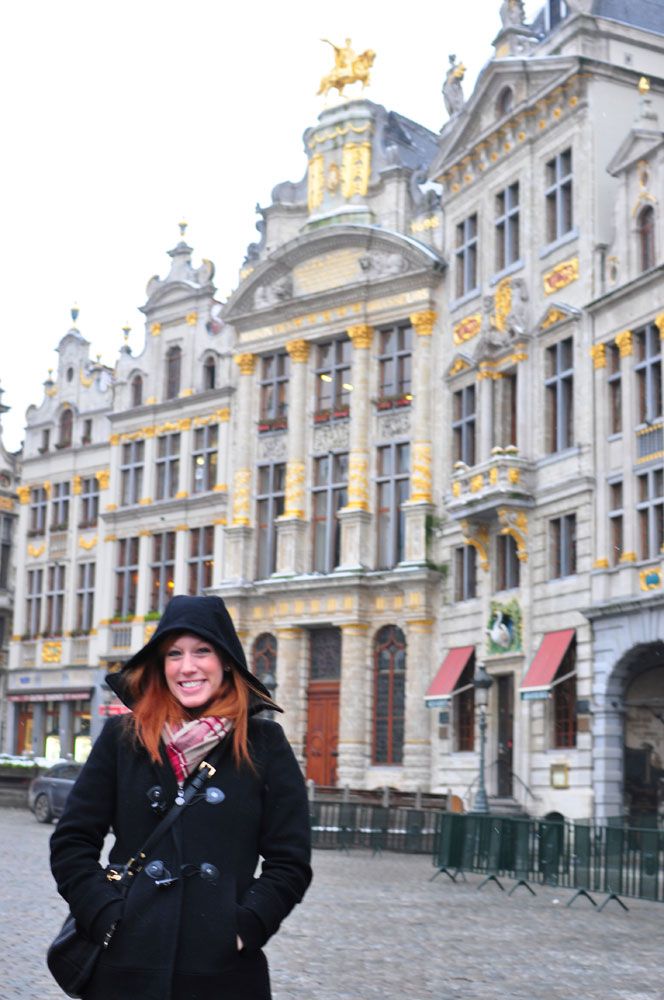 Manneken- Pis
This is literally a little statue of a boy peeing. There are spin-offs of this statue all over the place. It supposably stands for the cities love of life and a good time.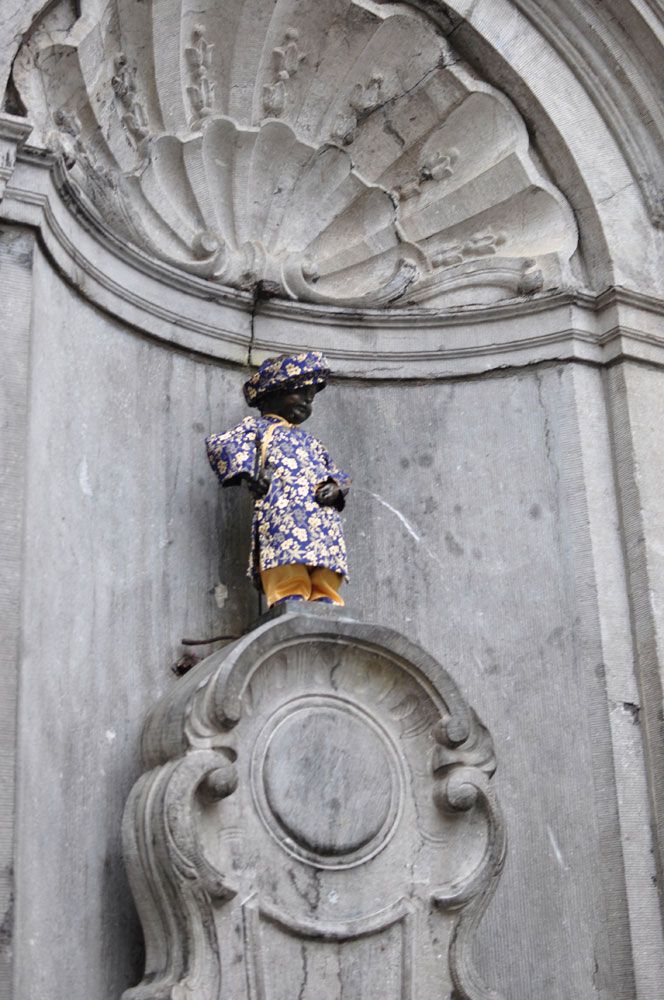 What's with the outfit? Apparently costumes are sent to Brussels from all over the world, and they change his outfit regularly. When we visited he was dressed as if he was from Africa.
Where We Ate
Fin de Siecle
By the time we got checked into our hotel Thursday night, it was already fairly late and we were starving. Thanks to some research I did while we were waiting at the airport earlier that day, I already knew exactly where I wanted to eat.
Fin de Siecle
had great reviews on TripAdvisor, which is basically my go to guide for finding restaurants.
We weren't quite sure what everything was, so we creepily eyed the plates of everyone surrounding us. It became clear what meal the place must be known for due to the overwhelming amount of people with mashed potatoes and sausages on their plates.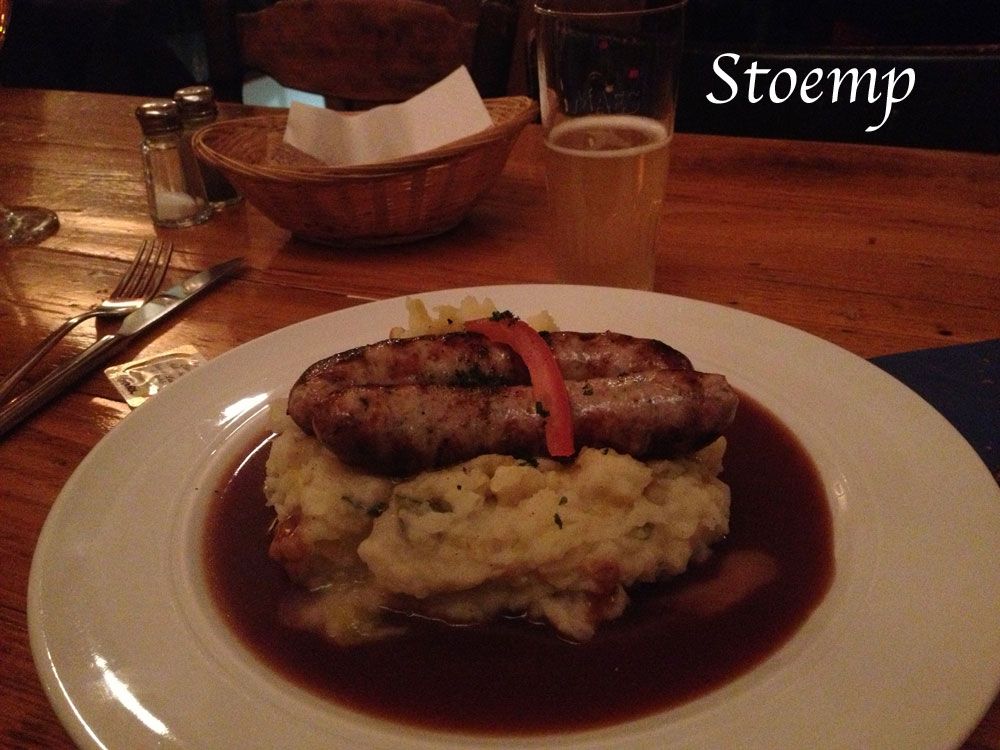 This traditional meal was exactly what we needed on a cold Belgian night. Obviously the beer was yummy too, because what Belgian beer isn't? The restaurant had a warm cozy atmosphere, and judging by how crowded it was at 8:30 on a Thursday night (and the fact that everyone was speaking French), I'd say this is a popular spot with locals as well.
Noordzee Mer du Nord

This outdoor seafood bar is a staple in Brussels, and I can see why. The food is so good that it's worth standing outside in the freezing cold for. If you're a fan of seafood like I am, this is a must-eat place if you are ever in Brussels. I would recommend ordering a variety of items off the menu to try. We had an early lunch here on Friday, so we were able to beat the usual lunchtime rush.
Although it was cold, having snow falling as we walked around the city gave it a magical feel. We didn't even stay for 24 hours, but it was plenty of time to enjoy good food and the main sites of the city. We spent Friday morning wandering around, and were at the train station on our way to Bruges by early afternoon.