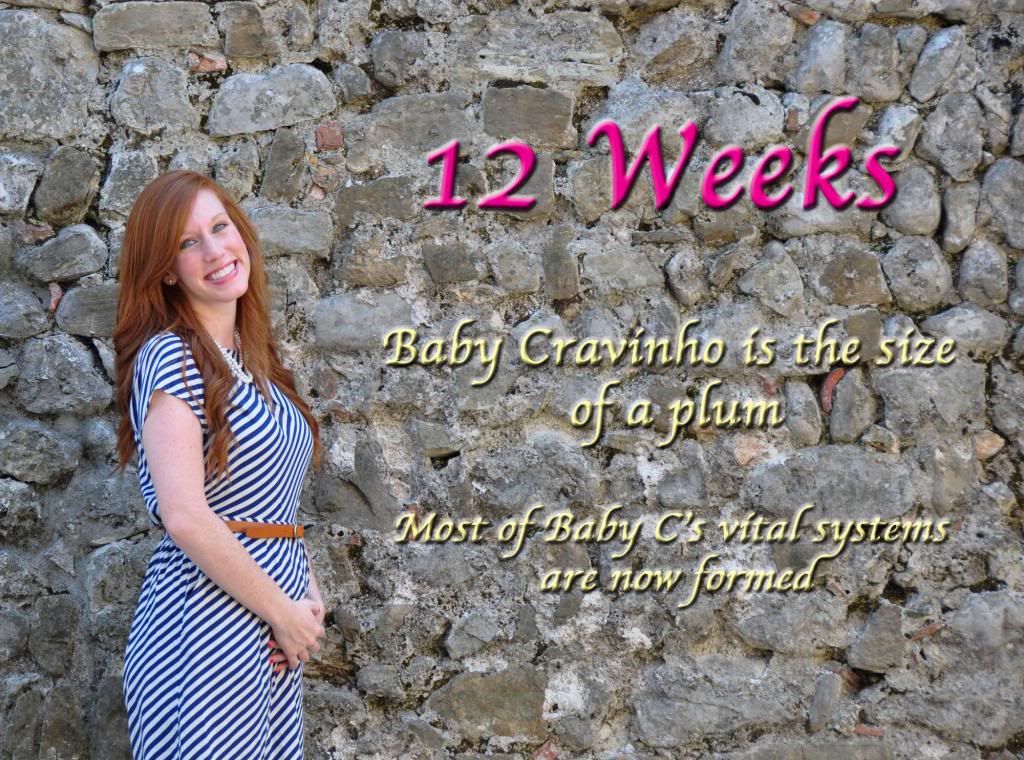 How Far Along:
12 Weeks
Size of Baby:
Apparently a large plum
Total Weight Gain:
None so far, yet I have a tummy and I sure feel wider
Stretch Marks:
Nope. Hopefully I'll take after my mama.
Maternity Clothes:
Well, I am currently unable to button the majority of my shorts. They have clasps instead of buttons so I can't do the rubber band trick either. I also can no longer wear any of my fitted dresses that zip. At least it's hot out, so I've been living in my collection of breezy sundresses. I refuse to buy any summer maternity clothes.
Gender:
Won't find out until I'm 20 weeks, but everyone seems to think it's going to be a girl.
Movement:
Nope
Sleep:
I would be sleeping amazing if I didn't have to get up to pee 3-4 times a night. I also wake up at the crack of dawn starving. I'm so hungry every morning that I feel sick.
What I miss:
My Lilly Pulitzer dresses :( They're all a size 4 with no stretch, which is just out of the question now.
Food Cravings:
I finally have my appetite back (some days)!
Ice cream and avocados. Not together though.
Food Aversions:
Not really
Symptoms:
Low energy, indigestion, headaches.
If I get too hungry, I feel like I'm about to die.
What I'm Looking Forward To:
Having my energy back
(Everyone keeps telling me this will happen, but I'll believe when I see it).
I am SO happy to almost be out of my first trimester.
Last week I suddenly started feeling much better, and I actually started going to the gym again too.
It's pretty hit or miss though, just when I have a few days in a row of feeling great, I'll have a bad day.


I have to say I'm having a more difficult time than I expected with how much my body is changing.
Every woman starts showing at different times, but I didn't expect to start seeing so many changes already.
Although, I also think that everyone has different definitions of "showing."
As soon as my stomach was no longer flat I felt like I was showing.
I'm at the point right now where it looks like I've had one too many donuts.
I can't wait until I look like I am clearly pregnant, instead of like I put on some chub.
If you want to stay up to date with my pregnancy, our travels and our life overseas there are a number of different ways!
You can sign-up for updates via email (sign up in the box on the right side of the screen)
Follow Pearls and Prosecco through
Bloglovin
"Like" Pearls and Prosecco on
Facebook
Follow me on Twitter
@NicoleLeeay