The Accademia del Buon Gusto is all the reason you need to visit Panzano, a small town in the Chianti region of Tuscany.
I found this little gem through TripAdvisor (seriously, how did people travel before this?), and I can honestly say it was the highlight of our entire trip.
Stefano is the "teacher" and owner of this little shop, and he is one of the most delightfully passionate people you will ever meet.
Panzano, Italy is a rather small town, and there isn't a whole lot to see.
Our sole reason for the visit was the Accademia del Buon Gusto, and it was definitely well worth it.
We weren't really sure what to expect, and when we came upon the shop Stefano was standing outside and kindly invited us in.
Everywhere you look there is wine and artwork, as classical music fills the small shop.
After we shared our interest in learning about wine, Stefano proceeded to fill us with knowledge, allowing us to taste as we went. He knew exactly what he was doing, having us try two very different wines to begin with in order to see what our personal taste was, so he could gage which direction to go in.
He explained the various blends of grapes in each wine as we tasted it, allowing us to figure out what our own preference is.
I now know that I love a good Chianti Classico, and that the higher percentage of Sangiovese grapes the better.
Not only is Stefano a master in teaching about vino, but he also makes his own wine for fun.
The labels on the bottles are truly a work of art, and he passionately explained the meaning behind all of them.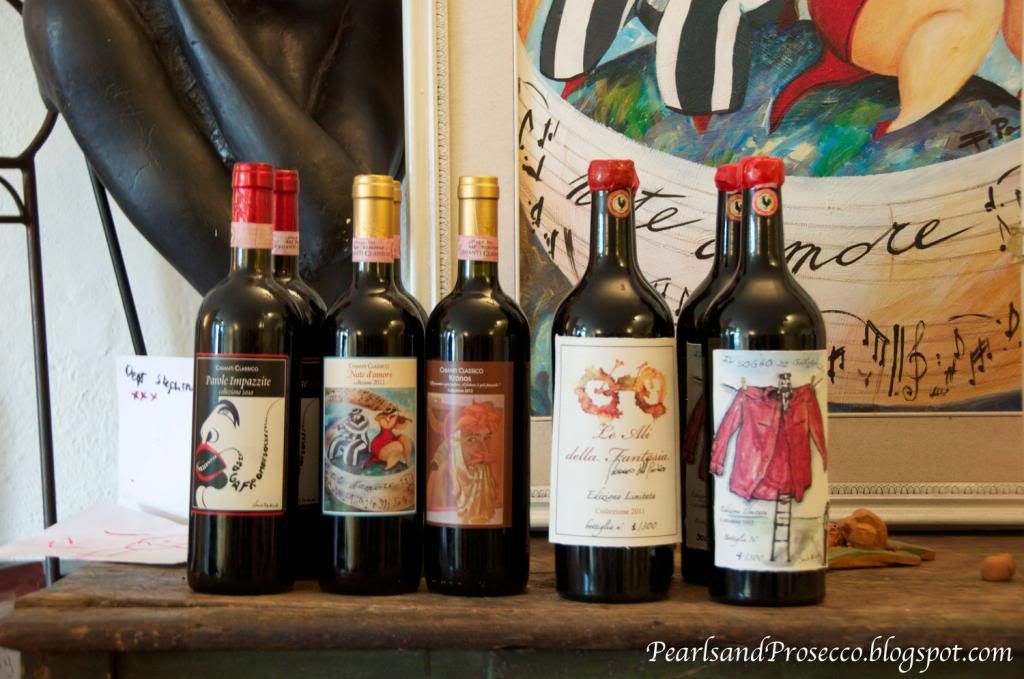 I learned more about wine in our time at Accademia del Buon Gusto than in all the wineries I've visited combined.
We also left with some of the best bottles of wine we'd ever had!
Stefano is extremely kind with wonderful philosophies on life, and after speaking with him you leave wanting to live your life a little more like he does.
Accademia del Buon Gusto is located at
Piazza Ricasoli, 11
Panzano, Greve in Chianit, Italy
If you are hungry afterwards (which we definitely were) right across the way is a delicious restaurant called Cantinetta Sassolini.
I'm not usually a big risotto fan, but I can honestly say I had the best risotto of my life here:
Yellow pumpkin risotto with sausage.
We shared the pork meat scallops with mushrooms as well, which was of course delicious.
If you ever find yourself in the Chianti region of Tuscany, Panzano is definitely a great place to visit to learn about some fabulous wine and enjoy some fantastic food!