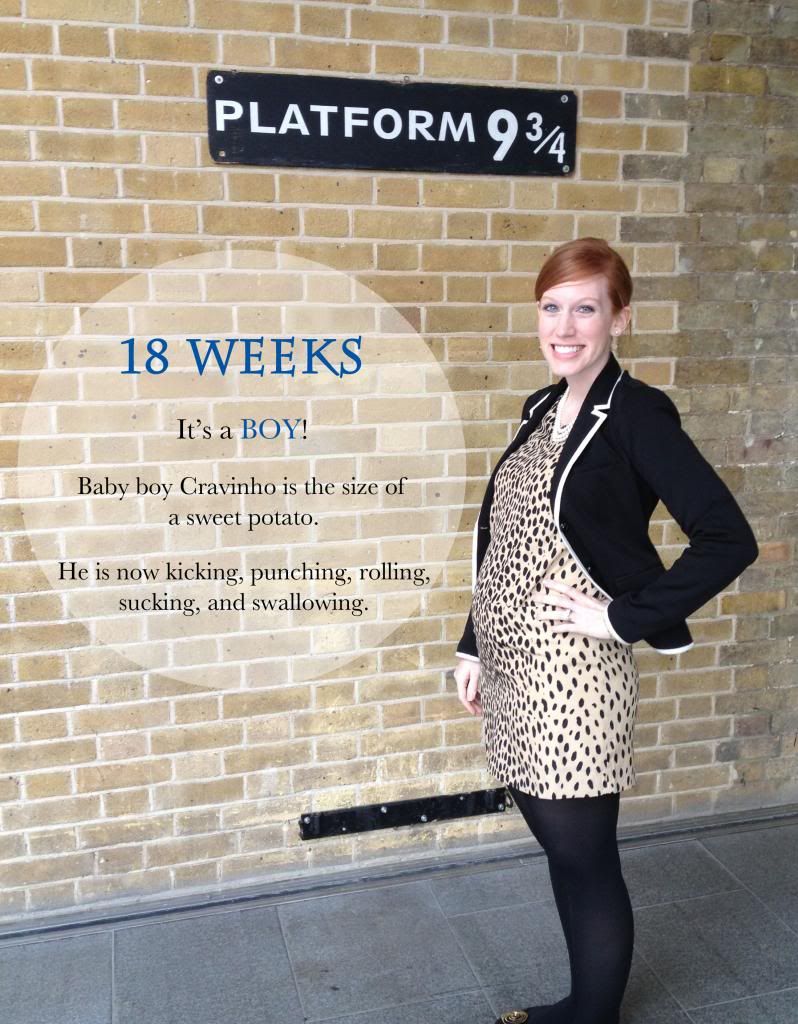 Platform 9 3/4, Kings Cross Station, London

How Far Along:
18 Weeks
Size of Baby:
A sweet potato
Total Weight Gain:
7-8 pounds
Stretch Marks:
Nope
Maternity Clothes:
Yes!
Around 17 weeks I decided to hell with my regular jeans, and slipped into a pair of maternity ones.
SO much more comfortable!
With maternity jeans comes maternity tops, because who wants that stretchy fabric that goes up to your boobs poking out? I'm still working in some of my regular pieces (like the blazer and dress in my bump pic ), but when it comes to bottoms I am sticking to maternity wear.
Gender:
Boy!
We weren't supposed to find out until 20 weeks, but you can read about it
here
.
Movement:
Not yet
Sleep:
We spent most of the past week in a hotel in London, but I slept way better than when we were in Vienna. I was also utterly exhausted every single night.
What I miss:
Alcohol.
No cider beers in the pubs of London for me.
Food Cravings:
Honestly, no.
Nothing that is out of the ordinary, or that I didn't crave before I was preggers.
Food Aversions:
Not really
Symptoms:
None really.
What I'm Looking Forward To:
Feeling baby boy move!
I realize this bumpdate is a little late, seeing as though I'll be 19 weeks soon. BUT the picture is from 18 weeks, and I am writing this bumpdate based on last week.
I feel like in the past week my belly really popped.
Looking back on all of our London pics, I actually
look
pregnant.
When people say that the second trimester is the best, they sure weren't kidding.
Although I got tired must faster when we were in London, I felt good and we were able to see and do everything we wanted.
I no longer feel like I am going to die of hunger when I wake up in the morning, and I'm so glad that was only a phase!
Finding out that baby Cravinho is a boy is definitely one of the most exciting things that has happened in our pregnancy so far!
When we were in London we stumbled across a Baby Gap and couldn't resist checking it out. They were having a sale, so we scored some good deals even with the pounds/dollar difference.
Our little man is going to be styling.
I'm picky about my own clothes and my husbands clothes, so I don't see things being any different with the little one.
We've really started making plans for the nursery now that we know the gender, and plan on completely spoiling this little guy.
More on that another day.