When visiting London there is one place that you absolutely cannot miss.
I'm not quite sure what makes Buckingham Palace so magical.
Perhaps it's because we are all so familiar with the royal family, and it's a history that a lot of us actually know a thing or two about.
When visiting major sites in any country, we have learned to always arrive first thing in the morning (when possible).
We arrived at Buckingham Palace right when it opened at 9am. The rest of the London tourists must have still been sleeping or trying to get ready for the day, because we didn't have to wait in line for more than two seconds.
We zipped right on in and began the tour of the State Rooms (the general tour of the Palace).
The inside of Buckingham Palace was really neat to see. We spotted a lot of decor that was straight from Italy, which made us laugh.
Obviously you aren't allowed to photograph the inside of the Palace (per usual), but I can say as someone who has visited more than a handful of royal residences around Europe, Buckingham Palace is very cool.
The tour ends at the back of the Palace, and it's a pretty decent walk to find your way out to the main streets again.
I desperately wanted a picture in front on the Palace.
We walked along until we came upon a giant swarm of people.
I hadn't being paying attention to the time, and didn't realize we were stumbling upon the famed changing of the guard.
We were able to find a spot with a decent view, and out of pure luck got to experience the changing of the guard.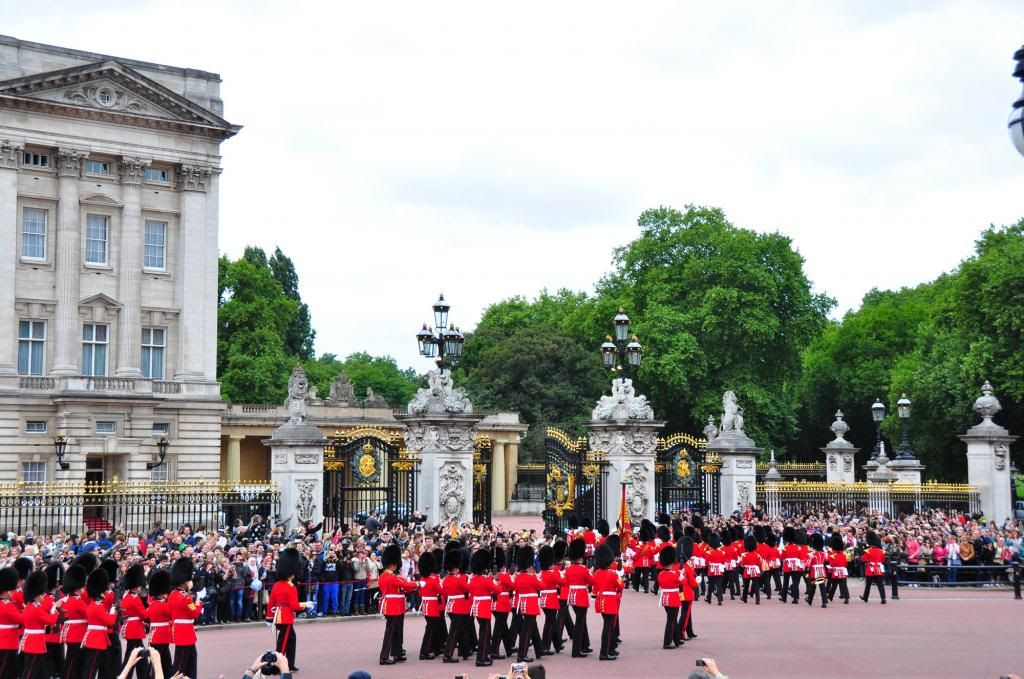 I'm so excited that we happened to find ourselves at the front of Buckingham Palace just in time for this.
We've seen a few different changing of the guards at other places, but they don't compare to Buckingham Palace.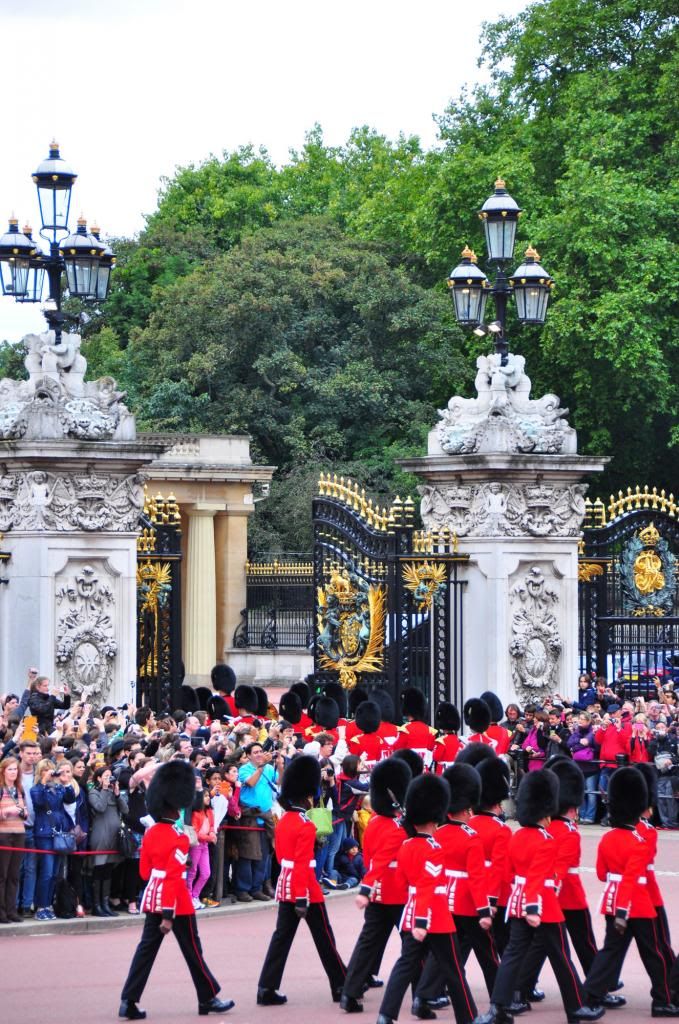 Everything has a price though, and with the hundreds of people around we weren't able to get the picture that I so badly wanted in front of the Palace.
So what did we decide to do?
First thing the next morning, on the last day of our trip, we trekked back out to Buckingham Palace just for some photos.
There was practically NO ONE there.
It was drizzling out, but when when I think of London I don't exactly picture awesome weather, so it didn't bother us one bit.
We had the outside of the Palace to ourselves, and it was absolutely perfect.
One of the main reasons I was so adamant about getting a picture of us in front of the Palace was because of this.
This is one of my favorite pictures of my grandma and grandpa, taken shortly after they were married, in front of Buckingham Palace. A few years ago I wrote a bit about this picture
here
.
This past spring my grandpa passed away, after making it to their 61st wedding anniversary.
In a perfect world Jacob would have been wearing his Air Force uniform too, but unfortunately in this day and age wearing your uniform out in public in other countries isn't allowed for safety reasons.
I'm so happy that we were able to capture this picture.
I'm a very lucky girl to have a husband who would make another trip back to Buckingham Palace for me, just so I could get that picture.
If you are planning a trip here, I highly recommend going early!
If I were to do it all over again I would arrive before it opens in order to take pictures out front, then take the tour of the inside.
Buckingham Palace was definitely one of my favorite parts of our London travels!