Every time I post about Austria on this blog, I have to gush about how much I love it.
It truly is one of my favorite countries, and it's one that you don't hear about quite as often.
Sure, it may not be as glamorous as Paris or as popular as Italy, but believe me- Austria definitely has it's own charm.
A few weeks ago we took a day trip up to Salzburg, which just so happens to be my favorite city in my beloved Austria.
We arrived on a Saturday morning and one of their many weekly markets was in progress.
The town is adorable and has a storybook feel to it.
If you plan on hiking up to the Hohensalzburg castle (which you just must do), be sure to bring your walking shoes.
The fortress sits atop a mountain overlooking the city of Salzburg.
It's quite a hike, but if I can do it at 6 months pregnant, you can too.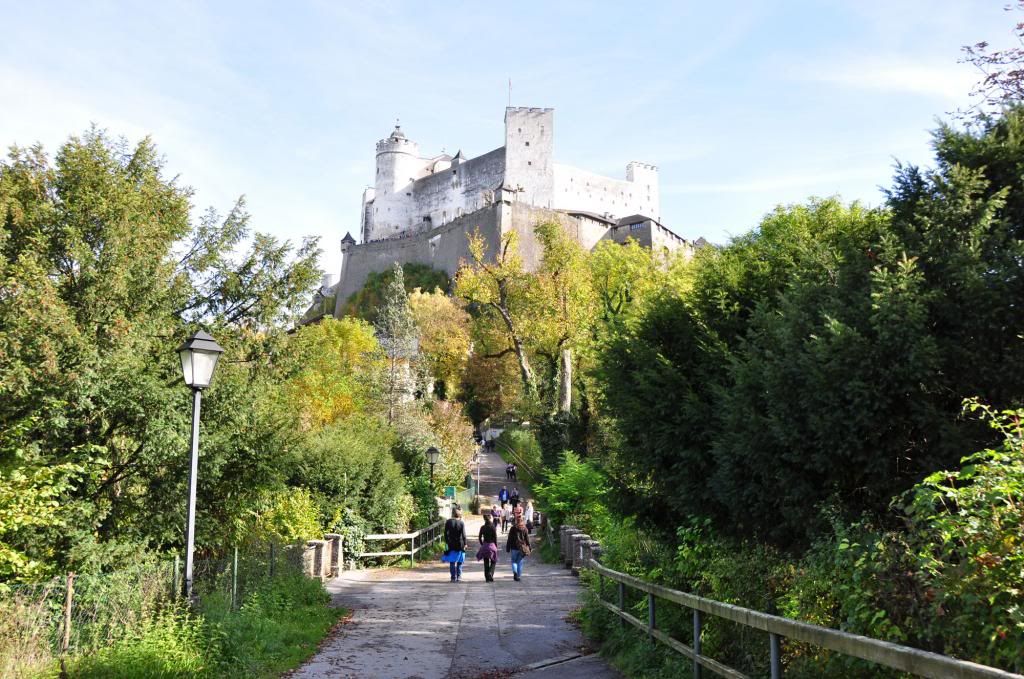 The view of Salzburg as you climb makes it all worth while.
There are a million different places to stop for a photo op, so it's easy to find an uncrowded area to snag some great pics.
A fun fact about Salzburg: Mozart was born there.
The city is full of Mozart souvenirs, which makes much more sense once you know that piece of information.
We explored the city at our leisure, indulged in some delicious German food (brats wrapped in bacon anyone?), and enjoyed a sunny fall day in this delightful town.
If you find yourself planning a European vacation, I hope you consider taking the time to visit Austria.
It's easily accessible from a number of different countries, and you won't regret making the trip.
We already have plans to head to Salzburg once again at the end of the month for their famed Christmas market, and to say I'm excited would be an understatement.
Have you ever been to Austria? What were some of your favorite cities?