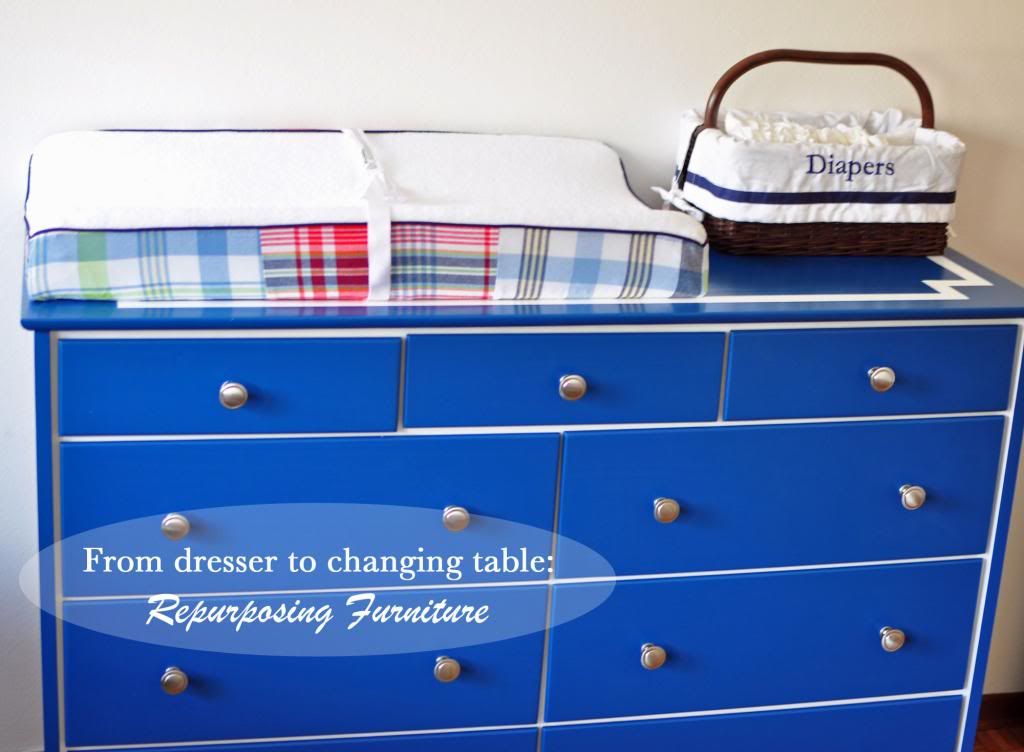 When we first found out we were expecting I started making a list of things we needed for our nursery. I originally looked into ordering a matching changing table along with our crib, but once I started taking measurements things weren't making much sense.
The "changing table" wasn't very big, and I started to worry about where we would store all of baby Jacob's clothes, seeing how Italian homes don't have closets.
An actual changing table also had such a limited function, it wasn't furniture that our little one could continue to use once he was no longer in diapers.
Then an idea struck me:
In our guest room we have the furniture that once resided in my own bedroom growing up.
The dresser was the perfect size for a changing table, and it was made of nice wood that we could easily sand.
As soon as I mentioned this to my husband he was immediately on board.
I was well into my second trimester by the time we got the project going, so from this point on my husband deserves all the credit for our newly repurposed changing table.
First he sanded the entire piece, then painted it with a primer. To create the decorative pattern on the top of the dresser he used painters tape to tape off the design. Next he painted the entire dresser blue. It took a good amount of layers to achieve the blue we were looking for (getting paint in Italy is difficult as it is, not to mention the color selection doesn't provide much variety). After the paint had dried he peeled off the painters tape to reveal the white design we had wanted to achieve on the dresser top.
We were able to order some silver knobs online (the dresser had originally come with wood knobs), and finally we have our finished product.

We are so happy with how the dresser/changing table turned out, and I love the idea that little Jacob can continue to use this piece of furniture as he grows up.
I added the changing pad and diaper caddy that I had already been gifted from my registry to turn this dresser into a functional changing table.
The drawers are also full of Jacob's clothes, which helps solve my "no closets" issue.
Slowly but surely the nursery is coming together, and I promise I will share more of it as we get everything finished!