I could do some long winded post about where I've been and what I've been up to for the past 3-4 months, but lets be honest, I'm sure no one really cares.
Let's just dive right into some Cravinho household current events.
I am currently sick. This is the first time I've been sick since Jacob was born, and let me tell you it is no picnic. Trying to take care of a tiny human when you feel like crap is pretty miserable.
Of course this happens at a time when I have like a million other things going on, but isn't that how it always is?
I have been busily preparing for Jacob's first birthday, which is just a few weeks away. The theme for the party is one of Jacob's favorite books, The Very Hungry Caterpillar. I've been using my new Cricut Explore that I received for Christmas to make most of the party decor, which I am pretty much obsessed with.


After living in our house for three months, I am finally getting around to putting together Jacob's bedroom (I can't bring myself to call it a nursery anymore, my little man just seems so grown up). I'm hoping to finish it before his birthday, so I better get my butt in gear.
My in-laws will be here in a little over a week, which means that I also need to turn our "guest room" into a somewhat livable situation. Lately it's been more of a "I don't know where to stick this so I'll just put it in the room that no one goes in" type of ordeal. I have my work cut out for me.
Jacob's eating habits have turned a bit to the crazy side (how does one survive on cheerios?), and he absolutely refuses to wear a bib. After ruining a vase amount of clothing, Mr. Jacob now dines in his birthday suite (almost).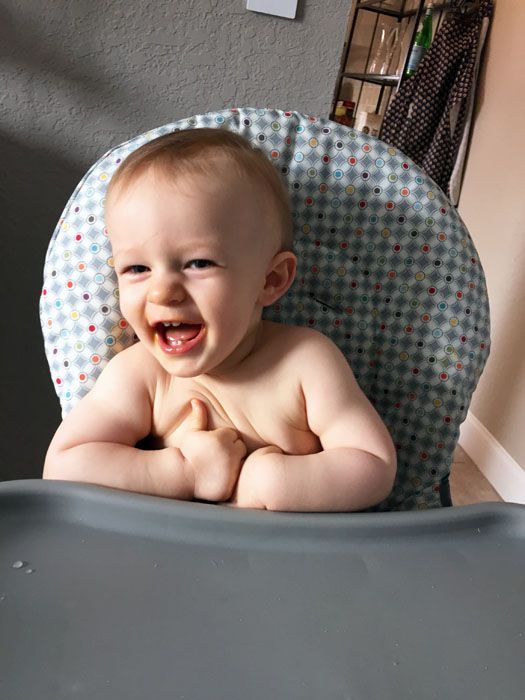 Honestly, I've missed blogging. It was a great creative outlet for me, and I would love to find time for it again. I don't know how often I'll be able to share new posts, but I would like to give it another go.
With that said, the chattering coming from the other room that I have casually been ignoring has slowly turned into a whine, which means nap time is now finito.
I'll leave you with this gem from yesterday. I texted it to Jake (my husband, not child) with the caption "literally sitting on the pot."
Yea, I'm pretty clever.

Until next time!