Back in July (ha I know, forever ago) when we left our home in Italy we made a stop in Oregon so that everyone could meet Jacob.
Jake's entire family lives there, as well as the majority of mine. It only made sense for us to have Jacob baptized during our trip so that all of our family could be there to celebrate. Luckily my parents (who live like 10 minutes from us here in Florida) were able to come out for the occasion too.
With the help of my in-laws we were able to plan the event from afar, and with the generous help of
Tiny Prints
I was able to get the invitations taken care before we even left Italy.
I absolutely love
these
invitations, and the Psalm on the back might just be my favorite part.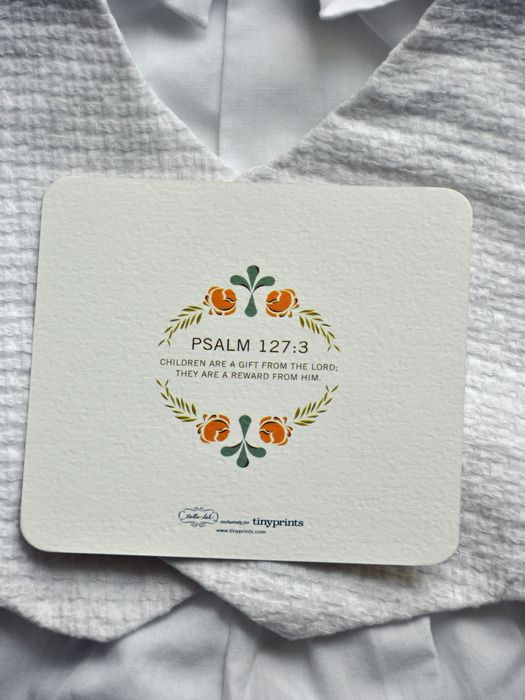 When Tiny Prints reached out to me I knew Jacob's baptism would be the perfect occasion to try out their services. The invitations were fantastic, and they even have matching
thank you cards
too!
Jacob was baptized following Mass and it makes my heart happy that our families were able to witness it with us.
Jacobs godparents (one of Jake's best friends and one of my best friends) flew into town for the event.
Jacob was such a trooper during everything and remained his usual happy self during both the Mass and baptism.
Afterwards he crashed hard though, it was a pretty big day for someone who wasn't even six months old yet.
My in-laws hosted a wonderful reception at their home, and we all celebrated Jacob while he snoozed in the back bedroom.

It was such a special day and I am so grateful for everyone who helped make it happen!