*This post is NOT sponsored in any way by Blue Apron. These opinions are my own, and I enjoyed the service so much that I decided to share my experience.
It's SO easy for dinner become a hassle each week.
We were stuck in a rut for a while, rotating the same 4-5 meals every week.
The innocent question of "what's for dinner?" instantly made my nerves skyrocket.
Then one day my husband randomly decided to give
Blue Apron
a try.
A box that contained all the makings for three gourmet dinners arrived at our doorstep on a Wednesday morning.
The food was well packaged between 3 giant ice blocks, and was still nice and cold after sitting on our doorstep in the Florida heat.
Along with a welcome letter that discussed the meals for the week, there was also an information sheet for each meal which included the ingredients, pictures, and super easy to follow directions.
That night we excitedly cooked our first meal, and it was of course super tasty.
Much better than anything we probably would have come up with ourselves.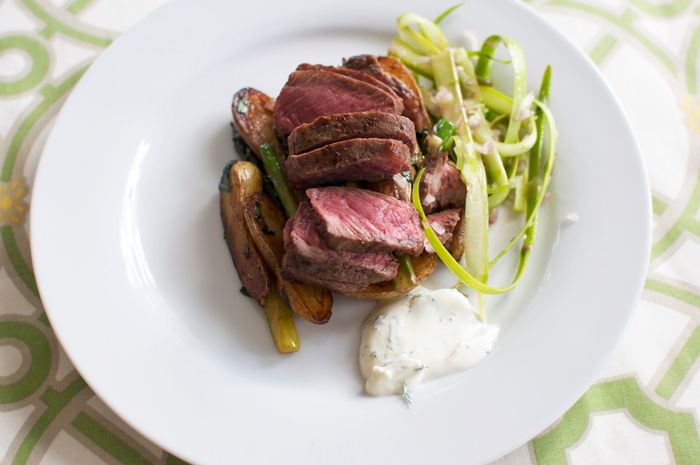 Flat iron steak with potatoes and asparagus salad
Besides enjoying good food, something else happened: my husband and I prepared the meal together and had an awesome time doing it.
After a busy day of him working and me chasing our toddler around, it's so easy for us to feel a bit disconnected. Things can get chaotic, especially around that time of night.
The
Blue Apron
meals have given us a wonderful stress-free way to come together at the end of the day.
While we prepare our dinner we turn on some music and our little guy has a blast dancing and playing in the kitchen while we cook. When he starts to get a bit irritated we just stick him in his high chair with a little dinner of his own and he eats while watching us.
Everyone is happy and everyone wins.
We've been receiving Blue Apron meals for a few weeks now, and are constantly impressed (check out my
Instagram
to see more of the yummy meals we've cooked).
The recipes are always unique and delicious, and we now have a great catalogue of meal ideas at our fingertips.
Another thing I love is that you have the ability to pick and choose what weeks you want to receive the meals.
My husband and I weren't big fans of what was on the menu for one week, so we just chose to skip it.
There's also vegetarian options that you can request, which we tried once when we weren't into a particular meal that was scheduled.
I have to say, overall I have been pretty impressed with our Blue Apron experience.
I foresee many more delicious (and stress-free) dinners in our future.
Sincerely,
Nicole Leeay