The housing market here in Oregon is no joke, and after living with my parents for over four months we finally found a home for our little family. After months of looking at houses we decided that our best option was to buy a home that is currently being built. The idea of a brand new house is definitely appealing, but since this house was already under construction we weren't able to choose any of the inside finishes- which is why this home fit within our budget so well. We decided to compromise on things like countertops and kitchen cupboards in exchange for square footage and an awesome floor plan.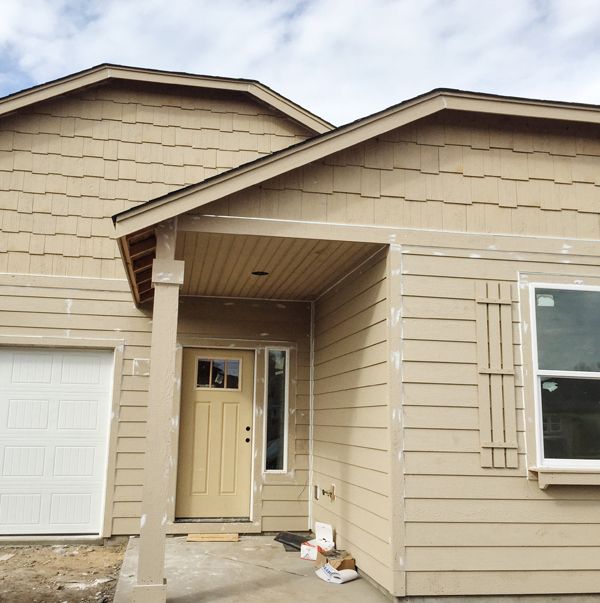 We've been playing around with different ideas of things we can do to make the house feel more "us". The kitchen cabinets, countertops, and flooring that were picked out really aren't our style, so we've been coming up with inexpensive ways to change things up.


The easiest (and least expensive) thing to do would be to paint the kitchen cabinets. They are a dark oak color, and I've always dreamed of a white kitchen. I searched Pinterest and found some inspiration.
I love the contrast of the white with the darker wood, and I think this would be a totally realistic idea for our kitchen.
There's something about not having everything match that I just love. Plus, it would be a lot less work to just paint the upper cabinets! Replacing the entire countertop isn't really an option for us at the moment, so we will have to wait until our kitchen starts to come together a bit more before making any real decisions.
I also love white subway tile, and I want to take it all the way up from the countertop to the cabinets.
I am dying for some open shelving, so maybe once we get into the house I can find a good place to replace a cabinet with shelves.
This is the current state of the "kitchen" so it will be a bit before we can make some of these ideas and plans a reality!
We are set to move in at the very end of April/beginning of May, and I absolutely cannot wait!
Until then I will just be perusing Pinterest and gathering ideas.
Sincerely,
Nicole