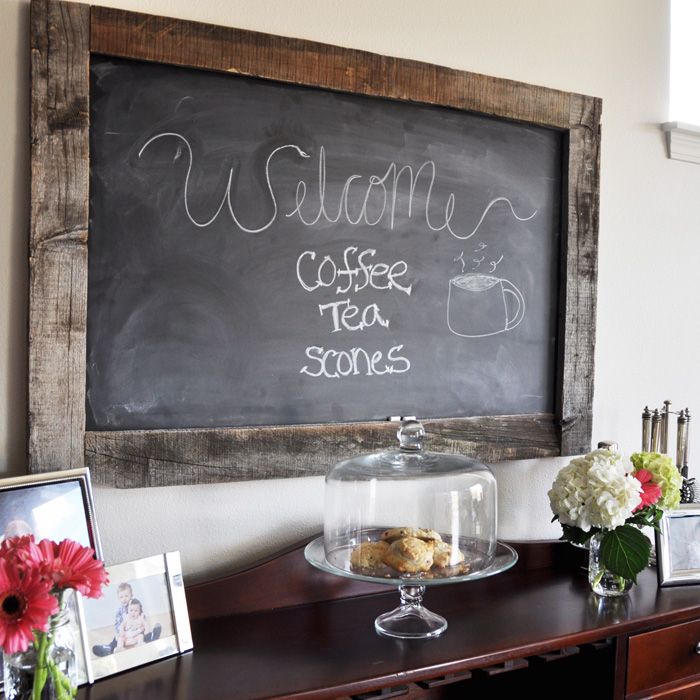 Just in case you couldn't find enough chalkboard DIY tutorials on Pinterest, I thought I would share one more.
BUT this one is super easy. Probably the easiest chalkboard tutorial ever.
Wanna know why?
Because we are going to skip an entire step.
No chalkboard paint here my friends.
Did you know that Home Depot sells giant sheets of chalkboard over by where they keep all the lumber?
For $10 you can get a 4x2 ft sheet of chalkboard.
All you need to do is create the frame for your chalkboard.
I wanted mine to have a rustic feel to it, so I used reclaimed wood that I cut my sweet Dad cut for me.

I wanted my chalkboard to be big and take up a good chunk of wall in our dining/eating area. I had my trusty helper (aka Dad) cut the chalkboard sheet to 3ft x 2ft. We cut the wood for the frame, and since I was going for a rustic look, perfection was not necessary. We attached the pieces of wood around my chalkboard with screws to create the frame.

A few weeks ago we had some family visiting from out of town, and I wanted to do something a little special for when they stopped by. Jacob and I made some scones and I got a chance to break in my new chalkboard.
Now I just need to work on my chalk-art skills!





Sincerely,
Nicole