I don't have some incredible post prepared for today, it's just been one of those weeks.
Sick baby, very little sleep, needy toddler, ahhhhh.
We were originally supposed to be headed out of town today for a wedding over the weekend, but with Annabelle sick it just isn't going to happen. Sadly, we're headed to the doctor to instead.
So instead of complaining about what's been going on around here, I thought I would post about the highlights of our week!
The first day of Fall // I think this time of year might be my favorite, and the fact that we live somewhere now that actually has seasons gets me all kinds of excited. I wanted to do a little something out of the norm with the kids yesterday to celebrate. So yesterday morning I made pumpkin spice pancakes, broke out the fun Halloween tableware, and we watched Curious George "Boofest" (streaming on Netflix!). I chatted with Jacob about Halloween and he is now SUPER excited and says "Hollwaweeeeeeeen!" Every time he see's pumpkin/ghost/bat paraphernalia.
Matching jammies // The kiddos have matching Halloween jammies this year and the cuteness kills me. Jacob is also quick to point out anything that matches, so he was extra excited to see that he and his sissy had coordinating pj's. Oh, and Annabelle also skipped drinking from a traditional "sippy cup" and went right to the Miracle Cup that her brother uses. I'm sure she thought I was an idiot for constantly giving her little sippy cups that she hated, when all she wanted was what her brother had. Go figure.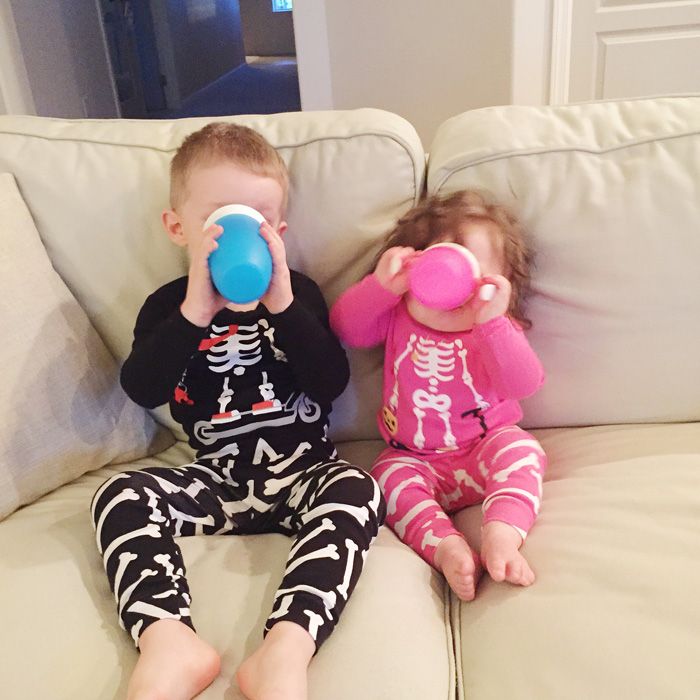 Halloween Costume // Last year we literally moved from Florida to Oregon ON October 31st. Annabelle was 4 weeks old, when we arrived in Portland it was raining, and no costume/trick or treating happened for Jacob. I've been feeling guilty ever since.
Well, this week we picked up Jacob's Halloween costume and he already asked to wear it 3 times in the 24 hours that we've had it. He runs through the house yelling "BATMAN" and I think he will surely get his wear out of it by the time Halloween comes around.
FYI: It's impossible to take a picture of Batman that isn't blurry. Once in costume, Batman cannot stop moving.
Almond milk at Starbucks // You guys, I am obsessed with almond milk. My mother in law turned me on to it and I've never looked back. It gives my coffee just enough flavor without adding any sugar and I love it. Most of the little independent coffee shops around here offer it, and don't get me wrong I love those little coffee shops. But when your shopping with your kids at Target and there's a Starbucks inside, that's just where you go. Well, imagine my excitement when we walked into Target the other day and I saw this sign!
SCORE!
1st Birthday Planning // I'm in the middle of planning Annabelle's first birthday, which is in just a week! I'm insanely emotional about her turning one, and I was not that way with Jacob at all. I guess the second time around time goes that much faster? I'm super excited that I am able to pay for her entire birthday (party, gifts, birthday girl outfit- everything) with money I made as a Beachbody coach. Less than a month ago I was bringing in $0 a month (Classic Dot is doing well, but with a new company like that it's best to keep reinvesting in the business), and now after only a few weeks, I am able to pay for my baby girls birthday. That's pretty amazing. I'm going to share more about being a Beachbody coach next week, but if you are interested in learning more please reach out and send me an email! nicolecravinho@gmail.com
That's our week, in all of it's exciting glory.
I'm hoping that Annabelle gets better over the weekend, so we will most likely be spending most of our time at home to make sure she gets all the rest she needs.
I hope that you all have a much more eventful weekend!
Sincerely,
Nicole