A lot of my challengers who do the 21 day fix program with me are new mamas, which means a lot of them are still breastfeeding.
One of the most common questions I am asked is if it's safe to do the program while breastfeeding?
My answer is yes.
In fact, I did 3 rounds of the 21 day fix, all while nursing my daughter.
BUT you do need to tweak things a bit.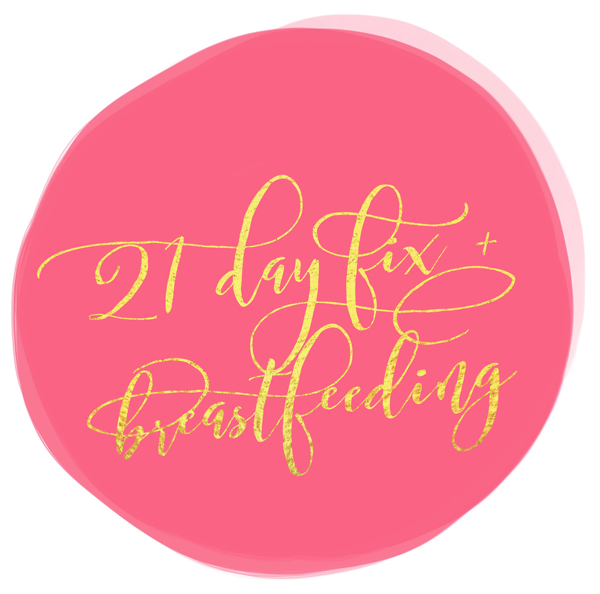 The nutrition part of the 21 day fix deals a lot with portion control, and you are allotted a certain amount of each "container" (basically a food group) each day. The amount you are allowed to have is basically determined by this equation:
- Current weight x 11 = baseline calories
- Add 400 to baseline calories = daily caloric need
- Subtract 750 from daily caloric need = calorie target
Now, I have often heard that all you have to do is add 500 to your calorie target if you are breastfeeding. Personally, I don't think that always works. Sometimes my nursing mama's can still fall into the lowest category. As a breastfeeding mom you should never eat below 1500 calories, and chances are you need more than that (especially if your babe is young exclusively nursing).
According to Kellymom.com breastfeeding mamas need at least 1500-1800 calories per day, and most likely on the higher end of that. If you are starting the 21 day fix than that means you are exercising, and definitely need to be eating closer to 1800 calories! Click
here
to read the full article regarding breastfeeding and weight loss.
With all that being said, I always recommend that my nursing mothers never eat below the second portion category of 1500-1800 calories. I also advise that you should listen to your own body! If you feel like you need to eat more than those portion containers are allowing, then use your own judgement! As long as you are making healthy choices and sticking with the recommended foods, you will still see results.
I did, so I know you will too!
Now I am not a doctor, I am simply speaking from my own experience and that of my challengers. If you are at all concerned about starting a program while breastfeeding you should always consult your doctor.
If you have any questions at all regarding the 21 day fix, please reach out to me!
Sincerely,
Nicole